Everyone knows, if you want to measure the diameter or thickness of a coin, normally will use a vernier caliper, right? But if you have only a traditional vernier caliper on hand ( not the one with a window and show the data directly), do you know how to get the specific measure result?
Recently we came across a case and seems it is really necessity to write an article alike to explain how to use Vernier Caliper when measuring a coin.
Here's the store:
Customer A wanted us to customized the coins for them, such coins are used in a coin machine, which has a specific coin thickness requirement to ensure each time comes out 1pc automatically.
At the very first time, we asked what the specific thickness that works well already and we get an answer that final coin with 2mm, then we just follow, but seems it not works to keep the former machine setting detail, it can only adjust the machine to ensure it works in the right way. It is a big lesson for us. So when it takes repeat orders, we keep special eyes on this point, then A feedback the thickness 2mm again, it is the same as the former data, to ensure there's no mistake arise, we asked them help to take thickness measured picture with a vernier caliper, A is really kind and patient and send at the quickest time. When we check the picture, then we know what's wrong, they just read Vernier Caliper's main rule data, while missing the vernier scale.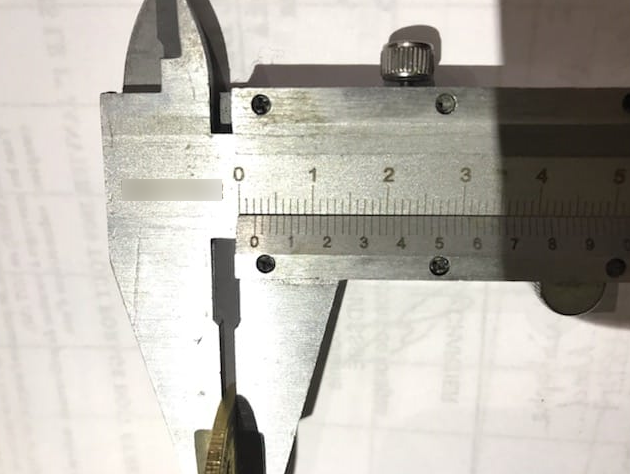 From the picture, the correct thickness should around 2.26mm alike if take away this vernier calipe's deviation.
Then how to get this 0.26mm out?
Here are some tips (all based on mm):
Focus your eyes on the vernier scale part
Count how many small grids in total on the vernier scale, we give it 'S' , then we know each small grid in the vernier scale means to (1/S) mm ( eg. the picture we show is 50 grids, then each small grid is 1/50=0.02mm)
Fix which grid line on vernier scale just on the same line as the main scale grid line
Count how many small grids from zero to the No. 3 fixed grid on the vernier scale, given 'n' (eg. the picture seems 13 grids)
Calculate: n x (1/S) mm (eg. based on #4 result, the vernier scale data is 0.02mm/grid x 13grids=0.26mm)
Then add the main scale data 2mm, in total it should be 2.26mm.
Hope all information helps for your easier understand how to read the traditional Vernier Caliper when measure a coin.